You're ready to use your Chromebook, but is your Chromebook ready to be used? Be sure to keep your Chromebook charged so that it is ready to be used when you need it.
Chromebooks may at times experience some problems while turning on or when charging. It could be a faulty power outlet, it could be the charger itself, or it may be the Chromebook's startup routine causing the issue.
Try the following best practices and helpful tips for charging your device, handling the cords and cables, and what to do if you are having power issues.
This Article Covers the Following
Best Practices for Charging and Cord Handling
It is your responsibility to make sure that your Chromebook fully charges at home each night. Leave your charger at home in a safe place. Chromebooks can hold a charge between 6-8 hours. Fully charging your Chromebook each night, ensures it will be ready for use during the school day as there may be limited power and opportunities to charge it while at school. While at school, you can simply close the case and it will put the Chromebook into sleep mode until you are ready to use it again.


When your device is at home, make sure it is stored and charging in a safe place so it won't get stepped on or knocked over. Chromebooks should be turned off and plugged in to charge each night. They can be unplugged when not charging.


Shut down the Chromebook at the end of every day or when you are done using it. This helps prevent unnecessary drain on the battery and can speed up charging time.


Avoid bending the cords and cables at sharp angles or leaving them where they could be pinched and kinked. Position cords and cables to avoid rolling over them with chairs, catching them between the edges of tables and drawers, and avoid leaving them in areas where someone could easily trip over them.


You should gently and carefully handle cords and cables when connecting and disconnecting them. You should disconnect the charging cord from its plug, do not disconnect it by pulling on the cord.


Also, be sure to not carry your Chromebook around while the power adapter is plugged in. When not in use, carefully wrap up your Chromebook's power adapter so the cords don't become tangled or knotted.
Screen Will Not Turn On
Check your brightness level.
The brightness of your screen could be the issue. Press the increase screen brightness button several times to see if the screen brightness increases.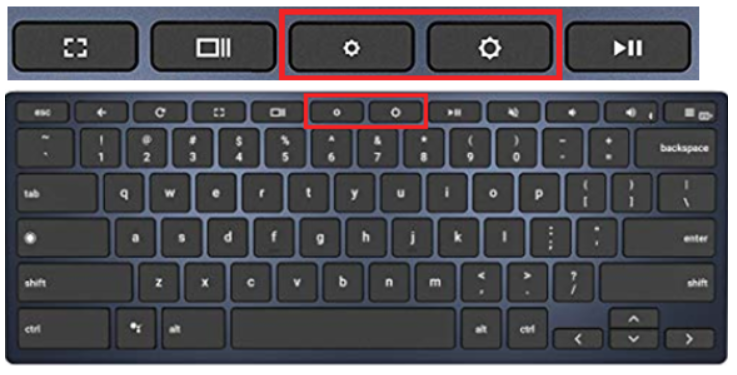 Perform a hard reset.
Turn off the Chromebook. Then, press and hold the Refresh + Power buttons at the same time for about 10 seconds and then release when it starts back up. Check to see if the charging indicator light comes on when you plug in the charger. The Refresh button is the fourth button on the top row of keyboard (circle with an arrow icon).
If one hard reset doesn't fix the issue, try a hard reset a second time. If it still doesn't fix your issue after two hard resets, unplug the charger, plug it back into the outlet first and then plug it into your Chromebook, and check to see if the charging indicator light comes on. If this works, then charge it for at least an hour before trying to start it up again.


Device Will Not Charge
Does the device have enough of a charge?
For all power issues, it is best to first ensure you have a device that has been charged enough. To test this out, plug in and charge the device for at least 30 minutes to see if it will hold a charge and function properly. After it has been charging for a while, press the power button to see if it turns on.


Try both power ports if your Chromebook has more than one.
If your Chromebook has two USB-C power ports, try testing the cord in both ports to see if either one will charge your device. Leave it plugged in for at least 30 minutes to see if that port is allowing it to hold a charge.

Check if the outlet is working.
Try plugging in another item into the outlet to see if a different item is still powering on and receiving a charge. If that item does not work either, then you can assume the outlet may not be working properly. Try a separate outlet to see if your Chromebook and the other item will still work to help troubleshoot your powering issue.

Is your charger the cause of the issue?
Does your charger have the same plug as another device? If so, try plugging the charger into another device to see if that device will power on and work. If it doesn't deliver a charge to the other device, then you may need to get a new charger.

Are both parts of the charging cable connected?
Ensure that both ends of the charging cable are securely plugged into place and that they are not loosely connected.

If you need a replacement power cord, contact your school. Please be aware that there may be fees associated with this. Refer to your principal for further details. Replacement costs for technology are outlined in the Student Electronic Equipment Loan and Use Agreement.


Discover additional Best Tips for Chromebook Care.