| | |
| --- | --- |
| | OneLogin Protect for iOS is the best option for smartphone users. |
OneLogin Protect is a mobile authenticator app that provides a one-time password (OTP) as a second authentication factor. Since you likely always have your phone nearby, it makes a great second authentication factor.
Discover more about multi-factor security authentication.
TOPICS IN THIS ARTICLE
INSTALL ONELOGIN PROTECT ON iOS
You will need your mobile device and a Chromebook or laptop to complete this process.

On Your Mobile Device
Visit your Apple App Store. Install the app OneLogin Protect.



Open the app and click on the + sign to Add first account



Allow camera permissions and click OK. You will need this to scan a QR code.



Allow or enable permissions for push notifications.

On a Separate Device, such as Your CPS Chromebook
Follow the steps to add a Security Factor.


Select OneLogin Protect.



At the OneLogin Protect install window, click on Activate.

Note: You must first download the app as previously explained before clicking Activate.




In the OneLogin Protect window, select iPhone & Android.
Scan the QR code with your mobile device.



A green checkmark will appear indicating that the device is paired.



Once paired, a 6-digit code is generated on your mobile device.

This one-time password (OTP) is used when you need to enter it manually.
To access the code, open up the app on your phone.
A new code is generated each time you open the app.

If you don't receive your OneLogin Protect notification during the login process:
First, check to make sure you have notifications enabled.

In the app, select the 3 lines icon, select Settings, enable to allow push notifications.



If it takes too long to receive your notification, simply open the app to access the OTP 6-digit code.
At the OneLogin authentication screen, select Enter code manually to enter this code.
VERIFYING ONELOGIN PROTECT AUTHENTICATION
Every time you access OneLogin, a push notification will be sent to your mobile device to authenticate your login. Click the OneLogin Protect notification on your mobile device.

Click Accept to verify that it is you accessing your account. OneLogin Protect will automatically send the OTP and logs you into your OneLogin portal.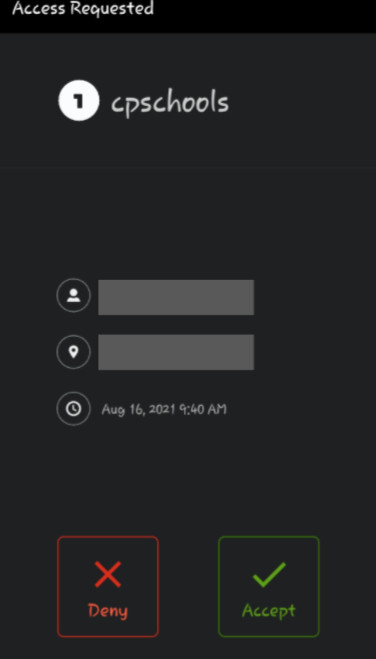 HAVE A NEW PHONE? HOW TO RESET ONELOGIN PROTECT
When you get a new cell phone, you will need to have your MFA reset to sync with your new device. Discover how to reset your OneLogin Protect.
USE A BACKUP AUTHENTICATION
To add another authentication:
To use your backup authentication:
At the authentication screen, select

Change Authentication Factor.

Choose your backup authentication if your mobile device is not available.